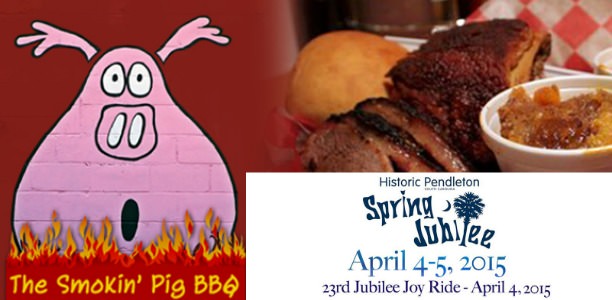 The Smokin' Pig located in Pendleton, SC, has announced the Ronald McDonald House Charities of the Carolinas as the beneficiary of a portion of their proceeds at the award-winning Historic Pendleton Spring Jubilee for the second year in a row. Last year, the Smokin Pig' was able to donate $252.60 of their Spring Jubilee proceeds to the Ronald McDonald House, and this year they hope to donate even more.
In its 37th year, the Historic Pendleton Spring Jubilee has been twice named The Best Festival in South Carolina in a Community Less than 3000. Held on the first weekend of April each year, it has been named a Top 100 Event by the American Bus Association and is a multi-winner of the Top Twenty Events in the Southeast by Southeast Tourism Society. Hundreds of artisans vie for the coveted 100 spots to showcase their crafts and foods, and the Smokin' Pig landed one of them.
Come out and enjoy the great atmosphere, great crafts, and great food on April 4th and 5th on the Village Green in Historic Pendleton, SC. And make sure to stop by the Smokin' Pig's to taste some delicious BBQ and to support the families of the Ronald McDonald House.
Read more