Ronald McDonald House Charities of the Carolinas Refreshes 12th Annual Ronald Cup Golf Tournament and Welcomes Celebrities to Greenville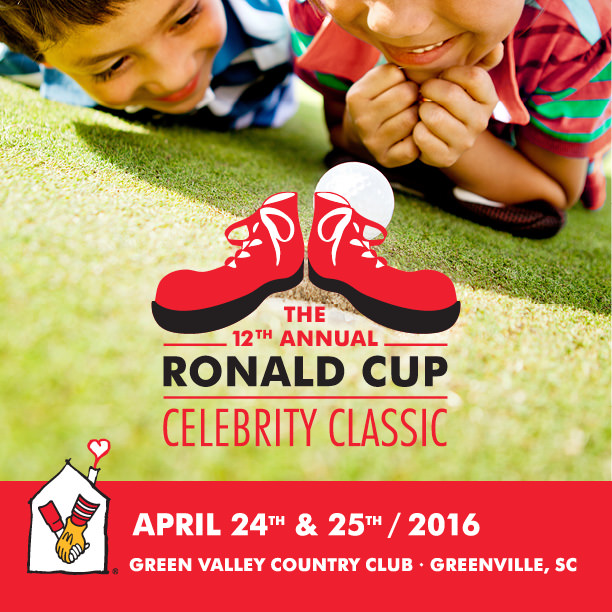 GREENVILLE, S.C. (Feb. 23, 2016) – Ronald McDonald House Charities of the Carolinas is pleased to present its 12th Annual Ronald Cup Celebrity Classic will be held on Sunday, April 24th and Monday, April 25th at Green Valley Country Club.
Celebrities expected at the 12th Annual Ronald Cup Celebrity Classic are as follows:
· Adam Humphries: NFL Wide Receiver, Tampa Bay Buccaneers – former Clemson Tiger
· Terance Mathis: Former NFL Pro Bowl Wide Receiver, Atlanta Falcons – 13 year NFL Career
· Jose Alvarez: Former MLB Pitcher, Atlanta Braves
· Mark Bryan: Lead Guitarist, Hootie & the Blowfish
· Rick Seratte: Keyboard/Vocalist, Whitesnake – known for hit song "Here I Go Again"
· Thad Daber: Professional Golfer, 4-Time World One Club Champion, Guinness World Record Holder, Lowest Round of Golf using only One Club
· Blake Sims: Former Alabama Crimson Tide Starting Quarterback
"The Ronald Cup has always been a very successful fundraiser for the Ronald McDonald House," said Joe White, Ronald Cup Committee Member. "We saw a wonderful opportunity to add a new dimension by getting charitable sports figures and celebrities to join our sponsors as they all raise money for the House. Our goal is to offer a premiere member-guest experience for the attendees so they will leave feeling like they had a great day on the course, while also giving back to the worthy cause."
The golf tournament begins with a Pairings Party the evening of Sunday, April 24th. Attendees are invited to a heavy hors d'oeuvres cocktail party at Green Valley Country Club looking over the scenic mountains of the upstate. The party will feature the sounds of famed, jazz performer Joe Gransden from Atlanta, Ga. Attendees will also have a chance to browse a selection of silent auction items, mix and mingle with the celebrities and finally bid for a chance to have the celebrity play as a the "Fifth Man" on their golf team the next morning. The event kicks off Monday morning at Green Valley with 18 spectacular holes of golf situated in the foothills of the Blue Ridge Mountains and meandering through the natural terrain of the Reedy River Valley. To finish off a great day on the course, golfers are invited to an awards luncheon in the country club.
"Since its inception, all of the proceeds raised from the Ronald Cup go directly back to the Ronald McDonald House in Greenville. This year is no different, other than the fact that we are inviting celebrities to come and play a great round of golf with our attendees," said Marti Spencer, Executive Director/CEO of Ronald McDonald House Charities of the Carolinas. We are a local charity with a global impact keeping families close to their critically ill or injured children since 1989. We are fortunate to have such great partners in the Greenville community and these celebrities who will help us continue on our mission."
Sponsorships and tickets are available for purchase at http://www.rmhc-carolinas.org/ronaldcup. For more information on the 12th Annual Ronald Cup Celebrity Classic, contact Samantha Bauer, Communications and Events Manager at Ronald McDonald House, at (864) 272-0197 or [email protected].