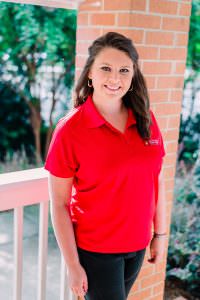 GREENVILLE, S.C. (Oct. 8, 2018) – Ronald McDonald House Charities (RMHC) of the Carolinas is pleased to welcome Elizabeth Stoffelen as the Events and Social Media Coordinator. Stoffelen will be responsible for coordinating all aspects of event management for RMHC of the Carolinas' six signature events. In addition, she will drive social media strategy and messaging to spreading awareness about the House's mission.
"We are pleased to welcome Elizabeth to the team," said Marti Spencer, CEO/Executive Director of RMHC of the Carolinas. "Elizabeth has always held such a great passion for the House as she was an Alpha Delta Pi in college and then interned for us a few years ago. We are so fortunate to have Elizabeth on our staff as she will bring many great ideas for growing our events and social media presence."
Stoffelen previously worked at local non-profit, Pendleton Place, as the Communications and Events Coordinator. There she was responsible for managing their fundraising events, marketing strategy and donor relations. Stoffelen started there in 2015 as an intern and joined the staff as a full time employee six months later. Prior to Pendleton Place, Elizabeth was an Events Intern at RMHC of the Carolinas in the summers of 2013 and 2014 and assisted the staff with executing all of their fundraisers for the House.
"When I first visited the Ronald McDonald House in 4th grade, I knew this was an organization I wanted to be a part of," said Stoffelen. "It brings me great joy everyday knowing I am able to live out my dream of planning events to ultimately support families in need."
Born in North Augusta, S.C., Stoffelen spent her early years growing up in Birmingham, A.L. and moved to Greenville, S.C. in 8th grade. She received her bachelors of science in Business Administration with a concentration in Marketing from Winthrop University. In her free time, she is an active member of the Junior League of Greenvilmle, a Council Leader of the Winthrop Young Alumni Greenville Chapter and Class Manager at SkillPop.