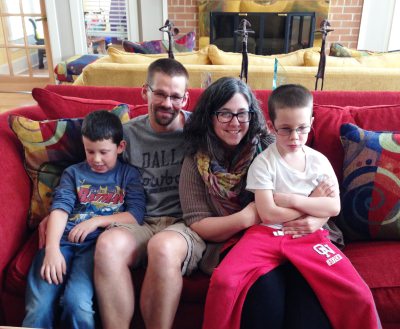 Josh and Jenny Fenlason ventured a long way from home for one very special reason—an addition to their family. The Minnesota couple drove twenty-one hours through the night,with their two sons Jeremiah, 8, and Elijah, 6, to Greenville, SC to meet the newest member of their family, Zeke.
The Fenlasons had thought about adoption for a while. "It's something that has been on our heart for a long time," Jenny says, "Not even so much as we wanted to add to our family, but see who God might have for our family." Last winter, the family decided the timing was right to pursue adoption. Open to children six and under, infants and sibling groups, the family applied for waiting children and infant adoption programs. Before being matched with Zeke, the Fenlasons had been matched once before, but the birth mother elected to parent. But, this time, it felt right.
An unlikely match because of the distance between South Carolina and Minnesota, the Fenlasons were matched with Zeke through several series of events. "It was just meant to be," Jenny says.
The Fenlasons had always known Zeke would come to them as a child with special needs. Initially doctors thought he may have Down Syndrome, but with more testing, he was diagnosed with Trisomy 13, a very severe and rare chromosome disorder—1 in every 16,000 infants are born with Trisomy 13. "We knew the possibilities of everything and wanted to be here to be by his side, be his advocates, and be his parents. And love him for as much time as we could," Jenny says. Two weeks after finding out this information, Zeke was born, six weeks early.
As quickly as they could, the Fenlasons were by his side in the NICU. With little time to plan, the Fenlasons stayed in a hotel for the first few nights they were in Greenville, but with the encouragement of the nurses and doctors in the NICU, they decided to look into the Ronald McDonald House, a place they had heard of before, but weren't exactly sure how it all worked. "We knew that people could stay there, but we didn't know the extensiveness of the hospitality," Jenny says of the House.
Just a few days after arriving in Greenville, Josh, Jenny, and their two children moved into the Ronald McDonald House, a much closer and much homier option than their hotel. "The food and how that's prepared by volunteers and sponsors, to have home-cooked meals a lot that's amazing," Josh adds about the House, "The facilities are a great benefit, especially for us having the kids with us, having the playground here is great and the staff is super friendly." Jenny, a homeschool teacher for their two boys, is able to continue their schooling, giving the family a familiar routine and as Jenny calls it a "home away from home normalcy."
"[The Ronald McDonald House] is a place where we can be, make a routine, and keep us together. It's hard, we get a little homesick, but I think it would be much harder if we were all apart," Jenny says. The House allows the Fenlason family to eat, play, and support the newest member of their family together. Josh and Jenny take shifts visiting baby Zeke in the hospital—two or three hour shifts, once or twice during the day. Even Elijah and Jeremiah take time away from their favorite part about the Ronald McDonald House, the playground, long enough to spend time with Zeke, reading him Goodnight, Moon and Cloudy with a Chance of Meatballs, once a day.
"That's also a really nice thing about the House, the proximity to the hospital. We can just walk across the street," Josh says. The Fenlason family didn't know, and still don't know how much time they will have with baby Zeke, but for now, the Ronald McDonald House allows them to be right by his side, giving him as much love and support as possible, for as long as possible.