What's New?
08 April, 2014

Tickets on sale for the Reedy River Jazz & Wine Festival! Join us as CertusBank presents the 5th annual Reedy River[...]

08 April, 2014

 April 1, 2014 marked a big anniversary for us here at the Ronald McDonald House.  We celebrated 25 years with a[...]
Stories of Courage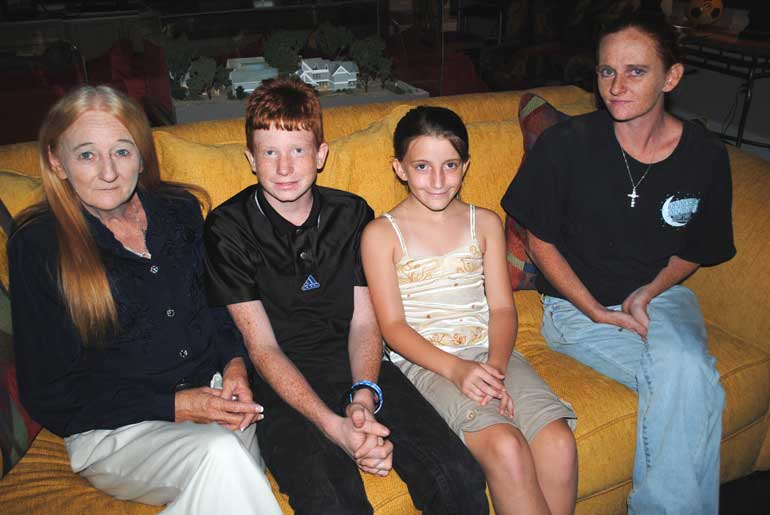 Valerie just turned 10 years old and has juvenile osteo arthritis. Her family has known since she was a toddler that something was wrong with her feet because she never liked to walk. They have been to many doctors, but Valerie was not diagnosed until she was 9 years old – just 6 months ago. It just happened there was a visiting doctor in Mayo, SC when she went for her annual check-up and he immediately asked for a blood work-up when he saw the knots on her feet.
Valerie cannot sit for very long and she doesn't like to do homework because it hurts to write. She pops her knuckles because she says it helps to relieve the pain. Her family is concerned about the medicines she is on for pain because it may cause liver damage. She is visiting Shriners to learn about surgery options for her feet. Her visit to MUSC recently was not encouraging or productive. Currently she is wearing braces but this is not effective.This particular auto immune deficiency is rare. Long-term, Valerie's joints will start to curl and she will be dealing with even more pain.
Pictured is Grandma Jeris Rutter, brother is James Quinn, Valerie Quinn and mom Samantha Quinn.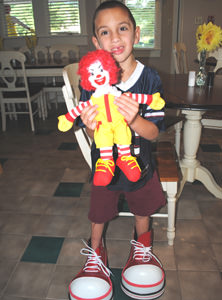 Joshua and his twin were both 10 weeks early. The twin did not make it but Joshua did. At 2 weeks old he had a colostomy bag because of intestinal issues. Six weeks later they operated to reattach his colon. He was on a feeding tube until he was 2 years old and had his gallbladder removed when he was four. Joshua's tenuous state required him to be resuscitated on occasion.
In response to learning disabilities, Joshua had early intervention until he was three years old and has been involved with Special Education. He plans to go to regular Headstart and regular kindergarten while also receiving physical therapy and writing therapy.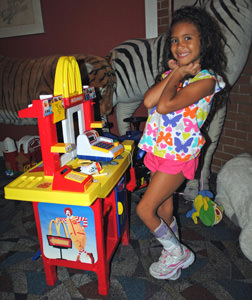 Also known as Lacey, 9- year-old Lissandra has spina bifida. She has been visiting the Greenville Ronald McDonald House since she was three years old. Although the family was here just a month ago, Lacey's mom noticed that her arches were rising which is an indicator that the spinal cord is tethered and surgery is required.
Spina Bifida is a problem with how the spine and spinal cord develops and can begin to develop in a fetus before the mother even knows she is pregnant.
We are grateful for our sponsors!