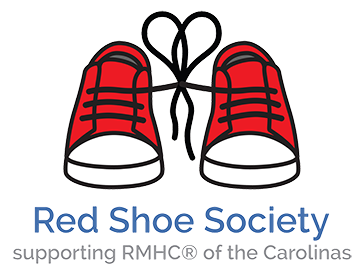 The Red Shoe Society
The Red Shoe Society is a group of young professionals with a collective goal to help make a difference in the lives of families with sick children.
Young Professionals Working Together for Good
The Red Shoe Society serves as a philanthropic arm of the Ronald McDonald House Charities® of the Carolinas.  This mission of this group is to engage, empower and inspire young professionals to participate in philanthropic and leadership endeavors and build awareness of the Ronald McDonald House Charities®.
As stewards of the Ronald McDonald House Charities®, Red Shoe Society members work together to raise money, donate their time, and provide needed volunteer efforts to benefit the house.
Become a Red Shoe Society Member
Red Shoes are not the only thing to make society members stand out. Red Shoe Society members are leaders. Being a society member means you are the type of person who wants to lend your talents to help others in the Upstate.
Are you interested in helping to improve the lives of those in need in our community? Here's what you need to know: Yearly membership dues are $89 (or $139 per couple) which represents the cost to house one family for one night, so simply by joining you have already helped one family in need. Join (or renew your membership) by sending in this form or join/renew online!
Join a Committee
If you've been looking volunteer opportunities in Greenville, a Red Shoe Society Committee is the perfect way to put your unique talents to good use. Here are the committees we're currently seeking help with:
SOCIAL – Assist with planning social gatherings for RSS members and friends. Also, assist with planning and organizing the Greenville Royale, RSS's signature fundraising event. Contact Vanessa for more information.
VOLUNTEER – Assist with planning service projects to benefit RMHCC programs through city events and House events. Contact Tais or Kevin to learn more.
DEVELOPMENT – Assist with fundraising and sharing the mission of RMHCC. For more information, email Bob.
MEMBERSHIP – Assist with recruiting new Red Shoe Society members and maintain relationships with current members. To get involved, contact Sam or Taylor.
Red Shoe Society Board
Anand Patel

President

Intellectual Property Attorney, Dority & Manning

Katie Sanders

President Elect

Associate, Phillip Allen, Inc.

Bob White

Development Co-Chair

Vice President, Bank of Travelers Rest

Teagan Hance

RSS Liaison

Volunteer and Communications Coordinator, RMHCC

Elizabeth Stoffelen

RSS Liaison

Events and Social Media Coordinator, RMHCC

Taylor Krulac

Membership Co - Chair

Mental Health Clinician, Uplift Counseling Services, LLC

Tais Farinha

Volunteer Co-Chair

Special Education Teacher, Spartanburg School District 5

Sam LoBosco

Membership Co-Chair

Staffing Manager, Robert Half

Jon Sutter

Finance Chair

Senior Manager, Elliott Davis

Vanessa Koechli

Social Co-Chair

Operations Manager, WorkSmart Staffing

Leah Grabo

Social Co- Chair

Sales Associate, Joan Herlong & Associates Sotheby's International Realty

Kevin Howard

Volunteer Co-Chair

Project Manager, City of Greenville

Amanda Murray

Marketing Co-Chair

Social Community Manager, Erwin Penland

Bailey Boese

Marketing Co-Chair

Production Designer, Up & Up

Caroline Smith

Auction Chair

Manager, Greenville Nannies

Carlie Boese

Plane Pull Chair

Branch Manager, Robert Half
Put Yourself In Our Shoes!
Sign up to receive the Red Shoe Society newsletter and see what we're up to.