Raised

$2,850,000

Progress
Goal

$3,500,000
Wish List
01 August, 2018

RMHC of the Carolinas AUGUST WISH LIST Below is a list of some of our priority items we need at[...]
What's New?
16 August, 2018

Join Our Team This Fall! Position: Volunteer Coordinator Intern and Event Intern Stipend: Unpaid Internship Dates of Position : 3 month[...]

16 August, 2018

RMHC of the Carolinas Announces the Hearts & Hands Gala as New Name for Annual Gala Sponsorships Available and Tickets on[...]
Stories of Courage
"Raghd Aljabri is a 7 year old girl from the Khan Younis refugee camp in the Gaza Strip in Palestine. She was born with a congenital deformity in both her legs which left her unable to walk without an assistive device (wheelchair) all her life. She needed a surgery which local doctors could not help her with. The PCRF had her assessed by a mission doctor who traveled to the region to help local doctors treat kids. This doctor advised our organization and the family to seek care outside Gaza in a specialized center. Raghd has six siblings. Her older sister now 22 suffered with the same condition. She underwent the surgery years ago in Gaza and unfortunately has suffered many complications since the treatment. Another unfortunate note is post her surgery (to amputate her legs) she will need prosthetics which are not available in Gaza. So even if she would have had the surgery the needed post surgery care is not available.
The father is the breadwinner in the family and supports a family of 8 on his single income of about $300 a month. He is a police officer. They live in a very simple home with very simple furniture. Electricity and water are available but not always. The electricity for example powers their home about four hours a day. The rest of the day they depend on other means to light their home.
Raghd like many other kids her age living in Gaza has survived two wars in her short 7 years of life. Her dream in life has always been to do the simple things she sees her classmates do walk and play and live a normal life. She hopes to be a teacher when she grows up. "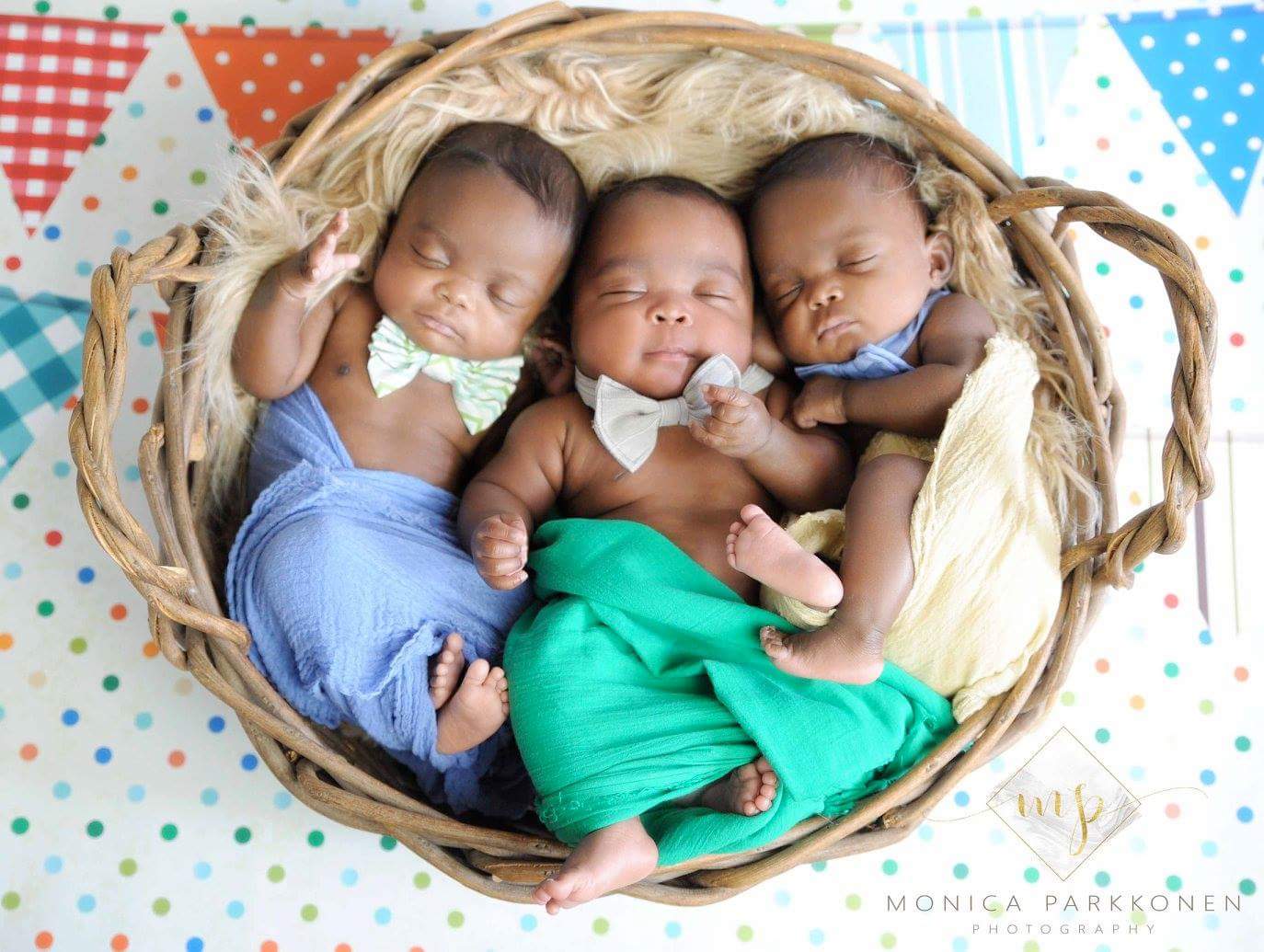 "We are a family of five now. My husband and I have been married for four years. We lost our first child last year at 23 weeks. He lived only 7 hours. We now have triplet boys Logan, Luke, and Liam.
I am blessed enough to be a stay at home mommy. When we became pregnant It was very much a surprise because we weren't trying, let alone thinking triplets at that. Everything was good until I hit that 23-week mark again. I started having contractions early and was admitted to the hospital. I stayed there for 5 weeks until the boys made their appearance.
Logan, Luke and Liam were born at 27 weeks and 5 days. We lived 30 miles away so driving back and forth was absolutely killing us. Thankfully, we able to get a room at RMHCC to visit and be near our boys. We would be there 10 to 12 hours a day and having the House across the street to be able to take naps and not worry about food was an absolute God send.
The nurses called my husband and I model parents. They believed our boys did so well because we were constantly there by their side. Some of our favorite memories of the Ronald McDonald House Charities were coming in and being treated like family. It doesn't get any better than that. Foolishly, I never knew about RMHCC until my children were in the NICU. Now, I will be forever grateful and share their mission to all!
We specifically loved how you were only permitted to eat in the kitchen because it gave you a chance to meet other family and share the struggles we all were facing. We would all encourage each other, lift each other up, find comfort in one another.
The resident managers of the House, Tasha and Crystal, were great. They always made sure you were comfortable and had everything you needed to take our minds off of the outside world and focus on our children. Crystal would pick on my husband and it was so funny, just the right amount of laughter we needed to make it through the difficult times. I hope we can give back to RMHCC as a thank you for all of the ways they helped us heal. We were residents at the House for 76 days and honestly don't know what we would have done without it. The Ronald McDonald Charities of the Carolinas is truly a blessing for families in need. Thank you!
With Love, Danielle, Rafhaun, Logan, Luke and Liam"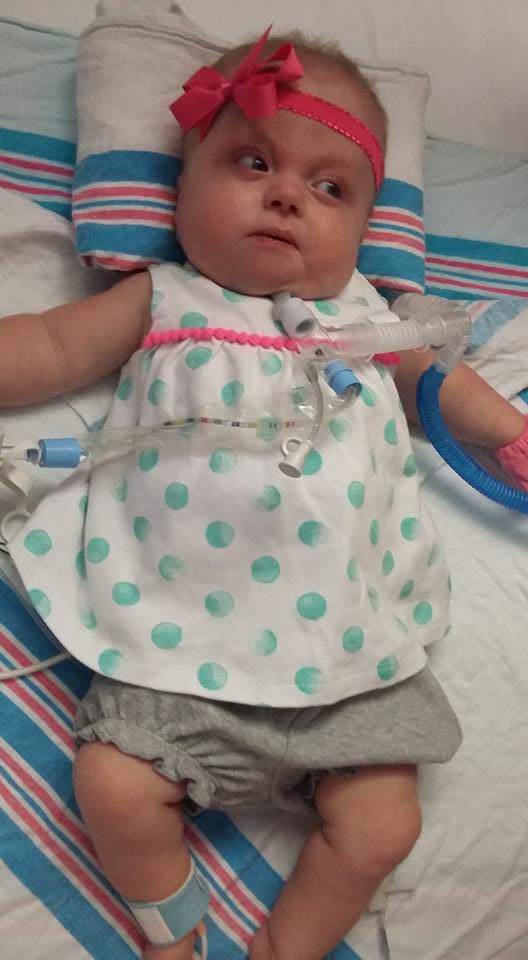 Our journey began, when we were 20 weeks pregnant, with our daughter Kendall RyLee Pless. After a routine blood test, we were sent to Maternal Fetal Medicine, for an extensive ultrasound. This was to determine whether our daughter had a genetic disorder. After more tests, they diagnosed her with Trisomy 18 (considered to be incompatible with life).
We decided to continue our pregnancy and have full interventions at birth. At 30 weeks, the amniotic fluid began to leak, so we were admitted on the high-risk ward at GHS. At 32 weeks and 5 days, Kendall's heartrate began to drop, so they performed a cesarean section. She was born on March 12th,2016 weighing 3lbs 7oz. As a result of her genetic disorder, she had a bicuspid aortic valve and a large vsd in the middle of the chambers of her heart. She was admitted to the NICU at GHS for an undetermined amount of time.
When I was discharged from the hospital, my husband, our son, and I went home (which was a 45-minute drive one way from the hospital). Once we were at home, we were miserable. All we could think about was, what if something happens while we are gone, and we're this far away. Then there was the thought of how to financially be able to travel, eat, sleep, be with our daughter, be with our son, and still maintain our home.
A social worker from the hospital had told us about the Ronald McDonald House across the street, but my husband had some reservations. After 2 nights at home, and going back and forth, I was able to convince him to at least check it out. After taking a tour, hearing about the house, and meeting the staff; we moved in the next day. The Ronald McDonald House became our home for the next 7 months, while our daughter remained in the NICU. Although, Kendall defied a lot of the odds against her and thrived through several surgeries (including open heart in Charleston), she contracted a septic infection right before she was scheduled to come home.
We lost our princess on October 10th,2016. Just 2 days before she would turn 7 months. The support shown to us from the Ronald McDonald House was phenomenal, and will never be forgotten. Without the Ronald McDonald House, we would not have been able to cope throughout our journey, neither financially nor emotionally. The house became our home, the staff and other residents, became our family. We were blessed to be able to maintain some normalcy, and still be at the hospital with our daughter every day. We were able to keep our family together, which was very important for our four-year-old son. There's no way we could have spent as much time with our daughter, if we didn't have the Ronald McDonald House. If it wasn't for funding from organizations such as yours, our family, along with many others would have lost precious time with their children.
Because of YOU, and the Ronald McDonald House, we had quality time with our little girl before she passed. For that we are eternally grateful, from the depths of our hearts.
With Warmest Regards, Tracy, Kelli, and Hunter Pless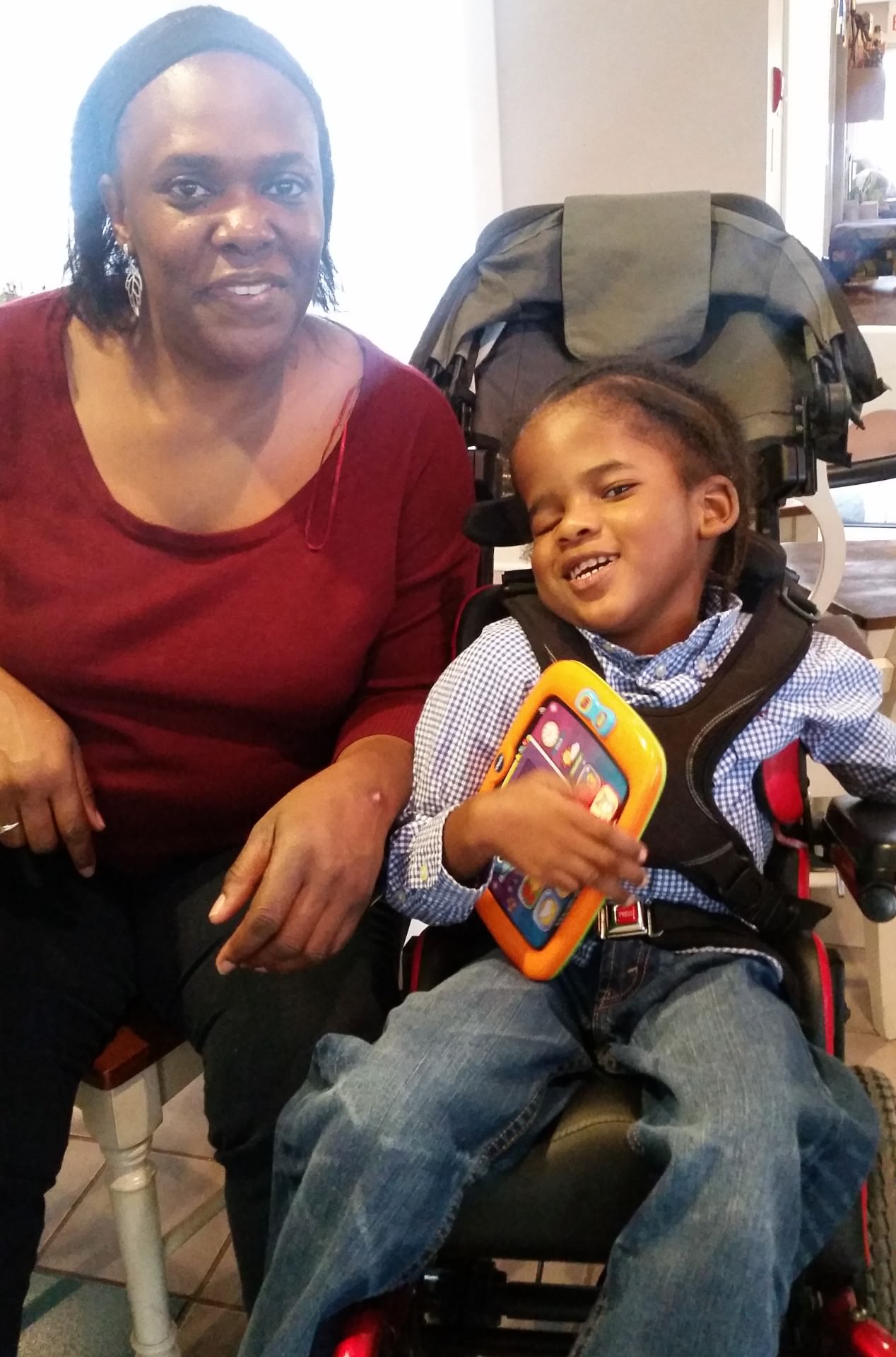 5-year-old Kaeden Addison is so full of love and energy, one would never know all of the struggles he has endured as an infant and young child. His mom, Carol Brockington, was working in Aiken as a surgical technician in 2010 when she became pregnant with her second son. Concerns for Carol's health during the pregnancy forced her to stop working and focus on staying well. During her second trimester, Carol's doctor found fluid on Kaeden's brain. Blood tests confirmed that Carol had contracted toxoplasmosis, an infection that is caused by a parasite but rarely shows symptoms. The infection had been passed to Kaeden during the pregnancy, with major implications for Kaeden's brain development.
When Kaeden was born in November 2010, he was diagnosed with hydrocephalus, a condition in which spinal fluid accumulates on the brain. He went into surgery for VP shunt placement at just 3 days old; this was the first of more than 15 operations that Kaeden would have on his brain. In addition, Kaeden's eyes did not develop completely; he consequently had to have one eye removed when he was 3 months old. Due to complications with that surgery, Kaeden has had 7 surgeries on his eye, with another scheduled for January 2016. Kaeden also deals with hip dysplasia, epilepsy, cerebral palsy, myoclonic jerks, cluster seizures, and paralysis on his left side. Although he is in a wheelchair and limited in his ability to communicate, Carol says that Kaeden is expressive in his own way and "lets me know how much he loves me."
Not surprisingly, appointments with specialists are a daily occurrence for Kaeden. Carol had to quit her job and withdraw from her nursing program in order to take Kaeden to his frequent appointments in Lexington, Greenville, Columbia, Charleston, and even out-of-state in Georgia and North Carolina. Carol and Kaeden have come to stay at the Ronald McDonald House in Greenville so that they can be in town while Kaeden meets with his doctors at Shriners and at Greenville Memorial Hospital. Having a comfortable place to stay allows Kaeden the time he needs to rest between appointments, and being close to the hospitals means that Carol does not have to make the long commute from Aiken every day. The support that Carol receives from the House has made a huge difference for her and Kaeden. She was able to be comfortable and stay worry free, despite all of the other factors constantly on her mind. Keeping her sons happy and healthy is Carol's top priority, and the Ronald McDonald House has provided her with comfort and security during stressful times. Carol says that RMH, which stand for the Ronald McDonald House, stands for "home away from home to Rest your Mind and Heart" in her eyes.
This lifestyle has also been a challenge for Kaeden's older brother, Kendahl. With the support of her family, Carol is able to provide Kaeden with the care he needs and Kendahl with support and stability. Carol hopes to one day be able to resume her nursing program and eventually begin working again. Although Kaeden's health challenges have changed Carol's life in many ways, she would not trade it for anything: "I can't imagine life without my sunshine."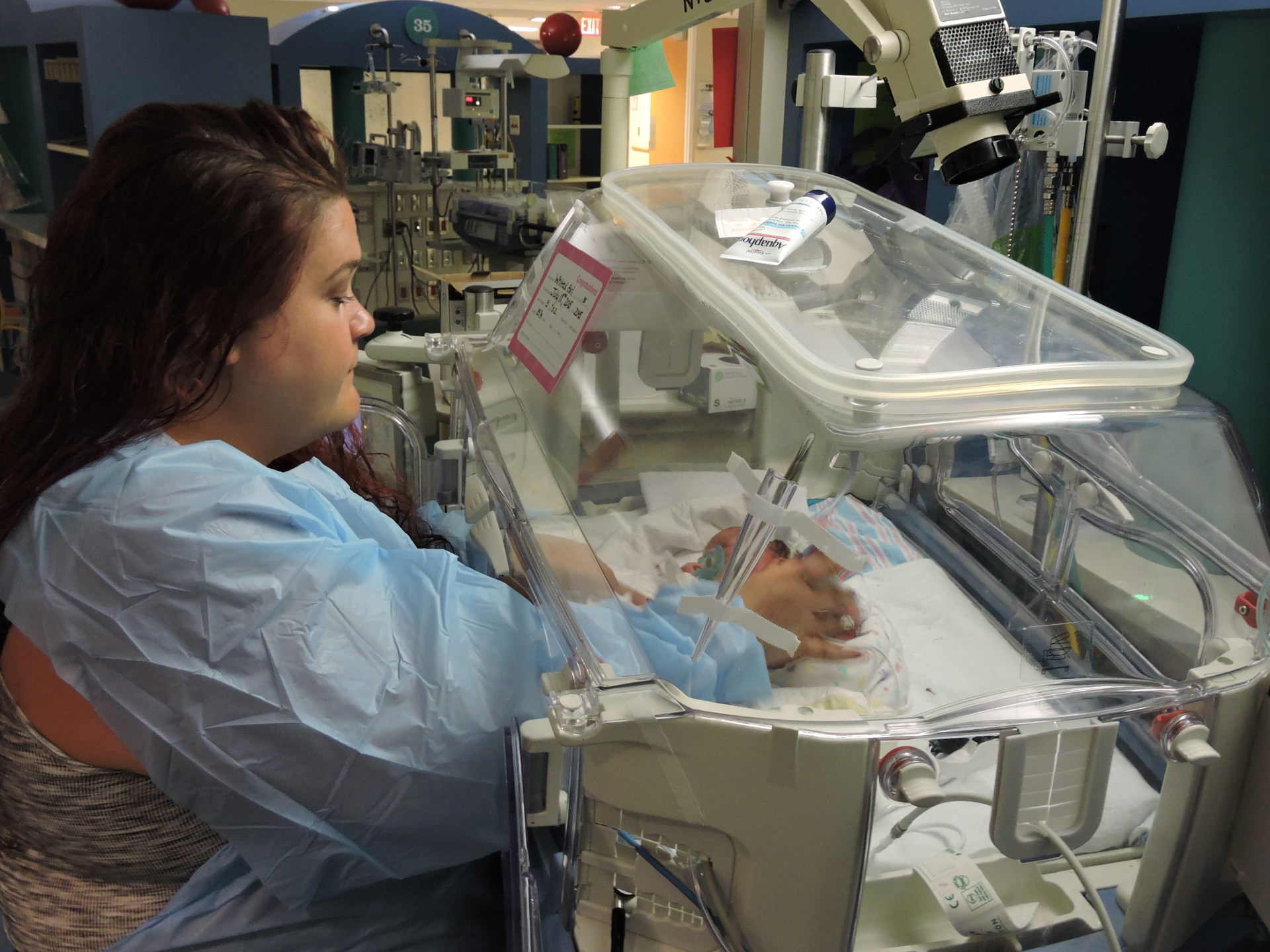 For the entirety of Lisa and David Struve's 8-year marriage, they have wanted a child. After a few years without luck, the Struves began fertility treatments and En-Vitro—still without luck. Three years ago, Lisa and David decided to try adoption. Living in San Diego, CA, the Struve family started their adoption process for children specifically in California. However, after nearly 2 and a half years of waiting, the Struves decided to expand their search nationwide in February 2015.
On July 19th they received a call from their adoption agency, ironically on Lisa and David's 8-year wedding anniversary. On July 18th at 8:45 p.m., a little girl had been born in Greenville, SC. The mother of the baby girl wanted to place her for adoption. This call came while Lisa was attending a family reunion in Richfield, NC. David, who is NAVY Chief Petty Officer, had just flown back to California to return to duty during this time. So Lisa, accompanied by her mother, immediately drove down to Greenville the very next day to meet their soon-to-be little girl.
Lisa held her baby girl for the first time, and instantly fell in love. She immediately knew her daughter's name would be Aylssa.
Without much time to plan and without much knowledge of the area, Lisa spent her first few nights in a Greenville hotel, one in which she didn't feel safe being alone since her mother had left to go back to North Carolina. Knowing she was alone and so far away from home, a social worker suggested the Ronald McDonald House.
Thinking it was just like any hotel, Lisa was blown away by how this House turned into a true home. This home allowed her to be near her new baby, bond with her, and be strong for her. Although David wanted to be with Lisa and Aylssa during this time, his work in the Navy only allowed him to come visit from August 1st to August 9th.
Lisa, who stayed at the House for nearly a month from July 23rd to August 15th, took comfort in meeting the other families and hearing what they were going through as well. The support, encouragement, and hope she shared with fellow families, as well as, with the staff, made Lisa feel right at home. She wasn't alone here.
She also took comfort in the small things provided by the House. The meals that were provided, the laundry rooms just down the hall from her room—these things allowed her to spend more time with her daughter, something she had been waiting to do for 8 years.
Although the Struve family was a long way from their home in San Diego, the Ronald McDonald House became their home away from a home—a place where they were given hope, love, and the most precious gift of their baby girl, Aylssa.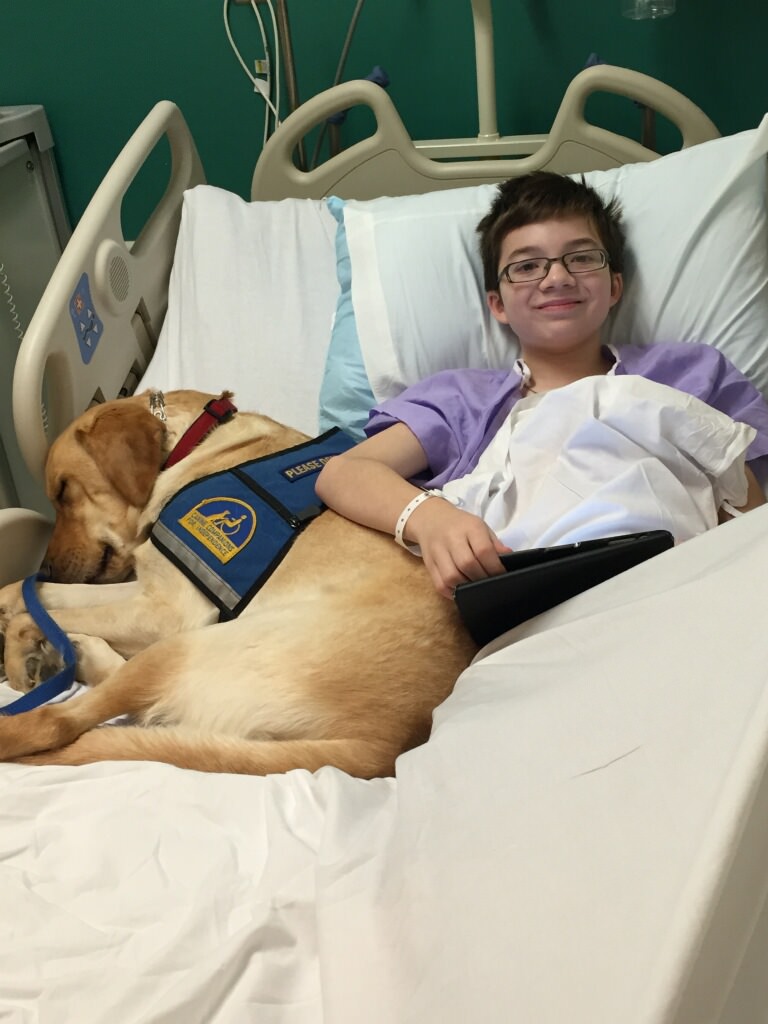 When you meet James DeLano, a 9-year-old boy from Hoover, Alabama, you would never know the struggles he faces on a regular basis. Upon meeting James you may notice he is a happy boy who shares a close bond with his dog, Lennie, enjoys playing outside and reading books like the Lord of the Rings series. What you may not know is that James lives with two chronic diseases that cause him to visit the Ronald McDonald House in Greenville every 4 months.
According to his mother, Victoria, James was born a healthy baby in 2005. He wasn't diagnosed with Eosinophilic esophagitis (EoE), until he was four years old, but looking back the diagnosis explained many instances of sickness they noticed when James was vomiting more than a usual child. EOE is an allergic inflammatory disease characterized by elevated eosinophils in the esophagus. Patients have reactions to food which in turn enflame the esophagus causing them not to be able to eat certain foods. Because of this James was put on a feeding tube at age 5 and continues to have it to this day which he carries in is backpack at all times.
During the time of James' diagnosis there were not many doctors who treated this disease. One day, his family came across a specialist in Greenville, named Dr. Markowitz, a specialist with Greenville Health System, who was able to help James. Victoria had stayed at the Ronald McDonald House in Cincinnati with James for an appointment, so when she came to Greenville she asked James' nurses to see if they could stay. Today, they have stayed at the House every time they come to visit Dr. Markowitz which is every 4- 6 months since 2009.
When asked about what the Ronald McDonald House means to them Victoria explained, "Being so far from home I don't know what we would have done." Having a chronically ill child-I am not working anymore, so that has caused an additional financial burden in addition to paying for the healthcare. There is no way we can pay for a hotel." She added, "There is just so much to go along with caring for a chronically ill child. It's nice to have the security and proximity to the hospital. When you are up for 3 days straight with your child go through test after test, just to be able to get a few hours of sleep, rejuvenates your body and mindset and allows you to keep moving forward."
A year after James was diagnosed with EOE he hit another bump in the road and was diagnosed with a genetic disorder called Mitochondrial Disease. This disease affects James' energy output and causes him to be very weak. Due to the mitochondrial disease, James sometimes needs a wheelchair to help him with long distances. He also has Lenny, a yellow lab mobility dog, who assists him with daily tasks like turning lights on and off and retrieving Gatorade from the fridge, and most importantly, spending long days in the hospital with James. James has been on an abbreviated school day or homebound for 3 years due to the diseases and had also undergone 20 or more surgeries or biopsies to run tests to constantly monitor and treat his condition.
When James comes to the Ronald McDonald House he says "it's fun and he can be himself." He doesn't worry about his tests and procedures, he is allowed to use the playroom and be a normal child. The future for James will be to continue living his life to the fullest and be a happy child with his mother, father, Jim and younger sister Amelia.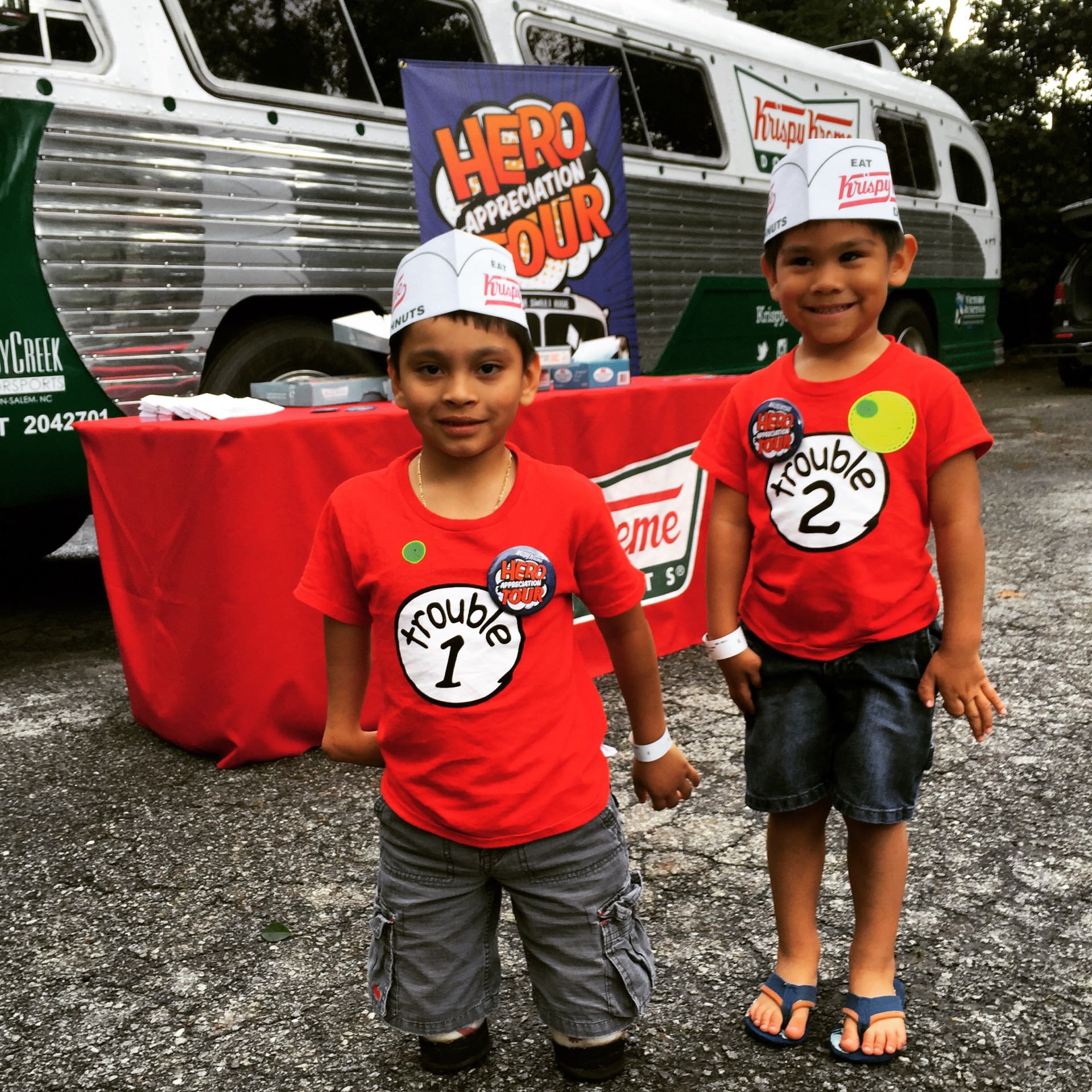 In very appropriate matching "Trouble 1" and "Trouble 2" t-shirts, the Suarez brothers, Isaias, 6, and Jonatan David, 4, run around outside the Ronald McDonald House, rebelliously tip-toeing around puddles, using Krispy Kreme doughnuts as fuel—pretty typical behavior for young boys. You would never even notice that Isaias has two prosthetic legs.
According to his mother, Sarahy Suarez, and his father, Josias Suarez, Isaias barely notices it himself.
"I pay more attention to it when people stare than he does. It's a mom thing. You worry about your children," Sarahy says. "He doesn't even mind it. People look or stare and he's just like, yeah whatever."
Even when Isaias was in the womb, Sarahy and Josias knew Isaias life would be different than most children. When Sarahy was 3 months pregnant with Isaias, doctors noticed his legs were clubbing. Four months into her pregnancy, doctors saw his tibia bone was missing, meaning Isaias' legs would most likely have to be amputated after birth. Wanting a second opinion, Sarahy's sister suggested they visit Shriners Hospital for Children in Greenville, SC.
Sarahy and Josias left their home in Charlotte, N.C. and visited Shriners Hospital for Children for a second opinion. Sadly, the doctors at Shriners said the same thing.
Faced with some tough decisions, the Suarez's stayed strong just like they now teach Isaias and Jonatan David to be.
"Don't get me wrong, when they told me [about Isaias] I was sad. I cried a lot," Sarahy said. "I was given the option at about 3 to 4 months pregnant if I wanted to abort. And it was not an option for us. If God sent my son to me like that, then that is how I was going to keep him."
Although the Suarez's could have chosen surgical rods for Isaias' legs, they made the tough decision to have his legs amputated. The rods would have to be replaced surgically every time he outgrew his legs, and eventually the rods would puncture his knees, making it impossible to walk, placing him in a wheelchair.
"If he was in a wheelchair, he couldn't be nearly as active as he is now," Josias says.
Born 32 weeks into Sarahy's pregnancy, Isaias was premature. He spent the first two weeks of his life in the NICU, and just over a year after that, in October 2009 Isaias went through a 3 hour surgery to amputate his legs at Shriners Hospital for Children.
That was the first time the Suarez family stayed at the Ronald McDonald House.
"Before that, we were going back in forth in one day," Josias said, "And ever since his surgery we've stayed here."
The Suarez family comes back to the Ronald McDonald House just about every 6 months now, as Isaias outgrows his prosthetics.
"We love it here. This place just makes you feel like home." Sarahy said of the House.
"It's home-y. You know everybody and everybody is so friendly." Josias added. "I relax here more than anywhere else." They have especially connected with the night manager at the House, Tasha, and her son, Dakota.
"We've seen her little boy grow," Sarahy says. "I can't believe how big he is now. We talk about what [Isaias]'s going through and she talks about what her son's going through."
Even Isaias gets excited to come to the Ronald McDonald House. The Suarez's most recent visit was especially exciting because Isaias who dreams of being a member of the Carolina Panthers got approved for his blade runners—which will be adorned with Carolina Panthers' name and colors, of course.
"Now that he is going to have his blades, we'll see what he can do," Sarahy says of her son.
Although, not having his blade runners has never seemed to slow Isaias down. He and his brother are active in T-Ball, boy scouts, and before it moved locations, karate. Isaias and his family also participate in his school fundraiser where students and parents run and walk as many laps as they can. This past year, Isaias was set to participate in the regional Special Olympics, but sadly it got rained out.
That won't stop Isaias, though. He is looking forward to next year's Special Olympics already. And until then, he is playing in his rehab center's sports league.
"We push him to do a lot of things," Isaias' mom says. "He likes to be involved and definitely likes to participate. He used to say I can't do it. Now we tell him you can't say that, you have to keep trying. He tries everything at least once and if he can't do it, then he'll keep trying."
The Suarez family has stayed strong through a tough time in their life, and the Ronald McDonald House has helped them in more ways than one.
"To be able to have his family around, and to have the simplest things—even distractions for him. it was a big help for us," Josias says. Isaias and Jonatan David love the House's playroom, of course, but for Isaias, his mom believes the House means more than just a fun night with an X-Box.
"He knows he's one of the people [at the Ronald McDonald House]. He's not different here." Saray says.
And in many ways, Isaias is just a normal 6 year old boy. He likes video games, he loves sports, and he gets upset when he has to sit still for too long. Through many organ tests and even a chromosome test, Isaias' doctors never diagnosed him with anything. "Mentally, internally everything is normal. It's just physically," his mother explains.
Sarahy and Josias Suarez know their son has been through a lot and will continue to face challenges in his life, but they are confident he can handle it.
"He's a strong person," Sarahy says of Isaias. "They are much stronger than what we think. They can handle it."
Looking forward, the Suarez's, who are expecting again, look to move closer to family in Florida where Josias is from. But, they also look to continue to strengthen their family and push Isaias and Jonatan David to go to college, start careers, and forge lives for themselves.
"My goal for Isaias is to make him as independent as I can. I don't want him to depend on his disability as a downfall." Sarahy says about her son.
"You fall, you get up. Because of his disability we are trying to be as strong as we can with him. He'll learn to do things on his own. He doesn't need anyone to help him," Josias adds. "He's going to be successful, and his legs won't have anything to do it."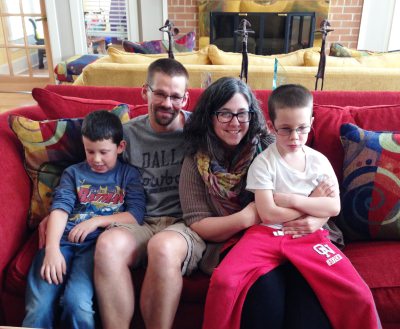 Josh and Jenny Fenlason ventured a long way from home for one very special reason—an addition to their family. The Minnesota couple drove twenty-one hours through the night, with their two sons Jeremiah, 8, and Elijah, 6, to Greenville, SC to meet the newest member of their family, Zeke.
The Fenlasons had thought about adoption for a while. "It's something that has been on our heart for a long time," Jenny says, "Not even so much as we wanted to add to our family, but see who God might have for our family."
Last winter, the family decided the timing was right to pursue adoption. Open to children six and under, infants and sibling groups, the family applied for waiting children and infant adoption programs. Before being matched with Zeke, the Fenalsons had been matched once before, but the birth mother elected to parent. But, this time, it felt right.
An unlikely match because of the distance between South Carolina and Minnesota, the Fenalsons were matched with Zeke through several series of events. "It was just meant to be," Jenny says.
The Fenlasons had always known Zeke would come to them as a child with special needs. Initially doctors thought he may have Down Syndrome, but with more testing, he was diagnosed with Trisomy 13, a very severe and rare chromosome disorder—1 in every 16,000 infants are born with Trisomy 13. "We knew the possibilities of everything and wanted to be here to be by his side, be his advocates, and be his parents. And love him for as much time as we could," Jenny says. Two weeks after finding out this information, Zeke was born, six weeks early.
As quickly as they could, the Fenalsons were by his side in the NICU. With little time to plan, the Fenlasons stayed in a hotel for the first few nights they were in Greenville, but with the encouragement of the nurses and doctors in the NICU, they decided to look into the Ronald McDonald House, a place they had heard of before, but weren't exactly sure how it all worked. "We knew that people could stay there, but we didn't know the extensiveness of the hospitality," Jenny says of the House.
Just a few days after arriving in Greenville, Josh, Jenny, and their two children moved into the Ronald McDonald House, a much closer and much homier option than their hotel. "The food and how that's prepared by volunteers and sponsors, to have home-cooked meals a lot that's amazing," Josh adds about the House, "The facilities are a great benefit, especially for us having the kids with us, having the playground here is great and the staff is super friendly." Jenny, a homeschool teacher for their two boys, is able to continue their schooling, giving the family a familiar routine and as Jenny calls it a "home away from home normalcy."
"[The Ronald McDonald House] is a place where we can be, make a routine, and keep us together. It's hard, we get a little homesick, but I think it would be much harder if we were all apart," Jenny says. The House allows the Fenlason family to eat, play, and support the newest member of their family together. Josh and Jenny take shifts visiting baby Zeke in the hospital—two or three hour shifts, once or twice during the day. Even Elijah and Jeremiah take time away from their favorite part about the Ronald McDonald House, the playground, long enough to spend time with Zeke, reading him Goodnight, Moon and Cloudy with a Chance of Meatballs, once a day.
"That's also a really nice thing about the House, the proximity to the hospital. We can just walk across the street," Josh says. The Fenlason familiy didn't know, and still don't know how much time they will have with baby Zeke, but for now, the Ronald McDonald House allows them to be right by his side, giving him as much love and support as possible, for as long as possible.
We are grateful for our sponsors!