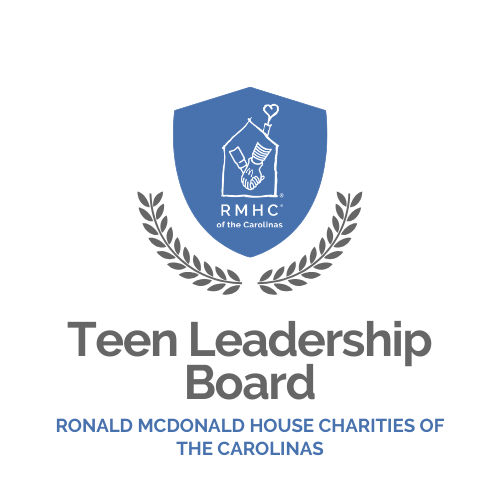 Teen Leadership Board
The Teen Leadership Board is a group comprised of high school students that serve as ambassadors for Ronald McDonald House Charities® of the Carolinas to their school, family and peers.
*Due to Covid-19 the 2021-22 TLB school year may utilize virtual meetings and will require temperature checks upon arrival to in-person meetings/events, the use of face masks, and for students to practice social distancing within Ronald McDonald House Charities of the Carolinas. Students who are not comfortable with or unable to attend any in-person meeting can virtually attend. 
Future Leaders Working Together for Good
Students of the Teen Leadership Board will serve as ambassadors for the families of the the Ronald McDonald House Charities® of the Carolinas.  The mission of this group is for students to gaining leadership skills and fundraising experience so that they may take those skills and become life-long volunteers within the Upstate of South Carolina.
As ambassadors of the Ronald McDonald House Charities®, Teen Leadership Board members will work together to raise awareness, donate their time, and provide needed volunteer efforts to benefit the house.
Become a Teen Leadership Board Member
Members of Ronald McDonald House Charities® of the Carolinas Teen Leadership Board are aspiring leaders within their communities. Members must be a high school student within the board year they apply and commit to program for the entire school year.
Want to be a part of our Teen Leadership Board and serve as an ambassador to the families we help? Interested members must fill out an application and interview with our Teen Leadership Board advisor committee. There will be a minimum of 10 members and a maximum of 24 member each school year, all applications may not be accepted into the program.
Serve on the Executive Committee of the Teen Leadership Board
Our Teen Board Executive Committee is in charge of making sure our meetings, events and service opportunities function smoothly and that the mission of Ronald McDonald House Charities® remains the focus throughout the school year . Here are the four executive committees positions we're currently seeking students for:
PRESIDENT – Leads meetings and ensures that members fulfill their responsibilities, conduct TLB businesseffectively and efficiently and are accountable for their performance.
VICE PRESIDENT – Oversees signature events (T-Shirt Fundraiser), manages membership recognition and serves as TLB photographer.
SECRETARY – Takes meeting minutes, manages TLB group communications and attendance, and connects members with House happenings.
SERVICE CHAIR – Oversees signature events (T-Shirt Fundraiser) and assists members with the planning and implementation of their leadership service activities and Big Give Events.
2020 – 2021 Teen Leadership Board
Mary Cage Carter

President

James Delano

Vice President

Ellie Grace Ackerman

Secretary

Annabelle Backus

Board Member

Natalie Boatman

Board Member

Ella Kate Brannon

Board Member

Bryson Bruster

Board Member

McCain Childress

Board Member

Jojo Cruz-Bedolla

Board Member

Emily Eicher

Board Member

Clara Lawrence

Board Member

Karolina Montalvo

Board Member

Abigail Pickens

Board Member

Charlotte Rosenfeld

Board Member

Margo Schellinger

Board Member

Rishita Tikkala

Board Member

Emma Vagnoni

Board Member

Elizabeth Whelehan

Board Member