Dillard's Offers Exclusive Southern Living Christmas Cookbook  to Benefit Ronald McDonald House Charities
(LITTLE ROCK, AR) Dillard's is pleased to further its commitment to Ronald McDonald House Charities® (RMHC®) and their goal to keep families of ill children close with Dillard's 22nd annual holiday fundraiser. Since 1994, Dillard's has supported RMHC in strengthening families during difficult times with a fundraiser benefiting its Ronald McDonald House® program, which provides families with much more than a place to stay while their children are receiving treatment at nearby hospitals.
For the eighth time, Dillard's is offering a special custom edition of the Southern Living Christmas Cookbook to benefit RMHC. This exclusive, 288-page hardbound cookbook is filled with more than 250 recipes and dozens of decoration ideas for Christmas plus seasonal gatherings. This "can't miss" cookbook is available for only $10.
The cookbooks are available now in all Dillard's stores nationwide, as well as online at www.dillards.com. Proceeds from the sale of the cookbooks will benefit Ronald McDonald Houses operated by RMHC Chapters in Dillard's markets.
"When a child is hospitalized, having family by their side is as powerful as the treatments themselves. We offer a place to stay so families can focus on the care of their child and not where they'll sleep at night or how they'll have time to make their next meal," said J.C. Gonzalez-Mendez, CEO of Ronald McDonald House Charities. "Through the generous support of donors like Dillard's, we at RMHC strive to be a catalyst for bringing people together to find solutions that strengthen families during difficult times. We're dedicated to making sure that children get the best medicine of all – their families."
Now in its 22nd year of support, Dillard's has raised more than $12.3 million to benefit RMHC. "Our continued relationship with RMHC gives all of us at Dillard's an enormous sense of pride. We look forward to another successful fundraiser this year and are honored to support the Ronald McDonald Houses in our communities," said Denise Mahaffy, vice president of Dillard's.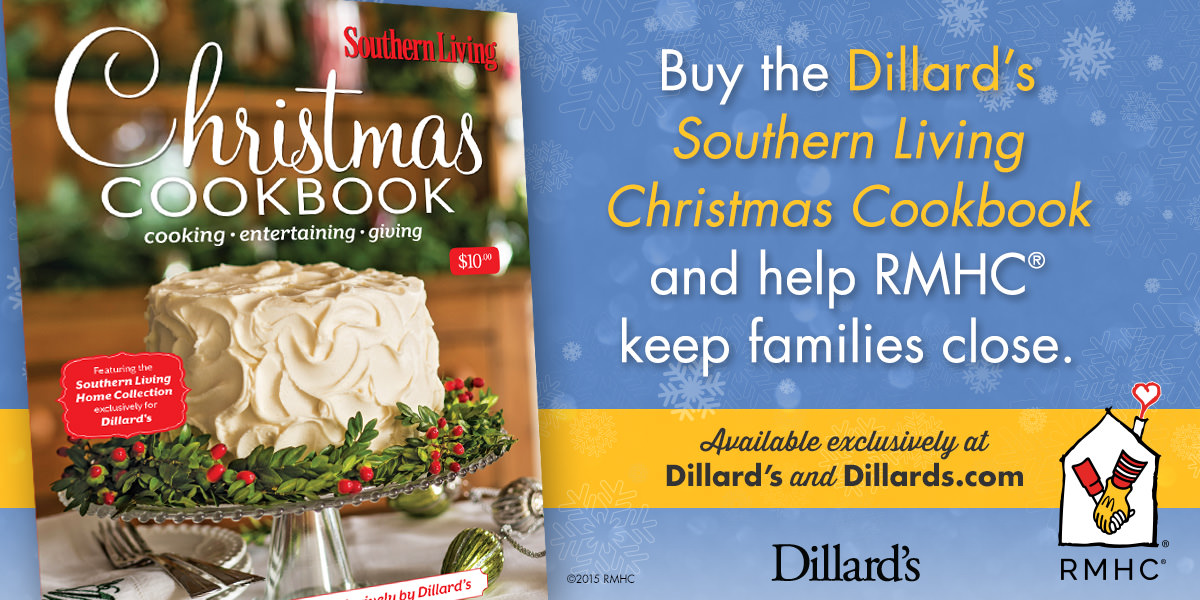 About Ronald McDonald House Charities
Ronald McDonald House Charities® (RMHC®), a non-profit, 501 (c) (3) corporation, creates, finds and supports programs that directly improve the health and well-being of children. Through its global network of 300 Chapters in more than 60 countries and regions, its three core programs, the Ronald McDonald House®, the Ronald McDonald Family Room® and the Ronald McDonald Care Mobile®, and millions of dollars in grants to support children's programs worldwide, RMHC provides stability and vital resources to families so they can get and keep their children healthy and happy. All RMHC-operated and supported programs, enable family-centered care, provide a bridge to quality health care, are a vital part of the health care continuum and give children and families the time they need to heal and cope better together.
About Dillard's
Dillard's, Inc. ranks among the nation's largest fashion apparel, cosmetics and home furnishings retailers with annual revenues exceeding $6.2 billion. The Company focuses on delivering maximum fashion and value to its shoppers by offering compelling selections complemented by exceptional customer care. Dillard's stores offer a broad selection of merchandise and feature products from both national and exclusive brand sources. The Company operates 278 Dillard's locations and 18 clearance centers spanning 29 states plus an Internet store at www.dillards.com. For more information, visit Dillards.com.
###
Read more