The Ronald McDonald House Provides
A Sense of Home
Our house is just that – a house, complete with living spaces, a dining room and bedroom suites for each family.
Meals
Thanks to volunteers from throughout the community, most meals are provided for families staying at our house.
Proximity to Hospital
Our location across the street from Greenville Memorial Hospital, Greenville Children's Hospital and Shriner's Hospital means our families are close to their loved one.
Computer Access
Life continues even with a child in the hospital. A computer and printer gives parents access to forms, work and family.
Laundry Facilities
Like other chores, laundry is a daily necessity and would be a costly and time-consuming activity without the service provided by RMH. 
Outdoor Gardens
Getting away for a moment can be challenging. Our outdoor gardens provide space for meditation, prayer and solace.
The Ronald McDonald Family Room® at GHS
The Ronald McDonald Family Room® is located in the lobby of the Greenville Memorial Children's Hospital. The Ronald McDonald Family Room® acts as an extension of our House and provides a quiet place to read and work where families are provided complimentary refreshments, access to computers and periodicals.
Most importantly, The Ronald McDonald Family Room® keeps parents close to their hospitalized child. Contact Debi Warren to learn more: (864) 455-4366!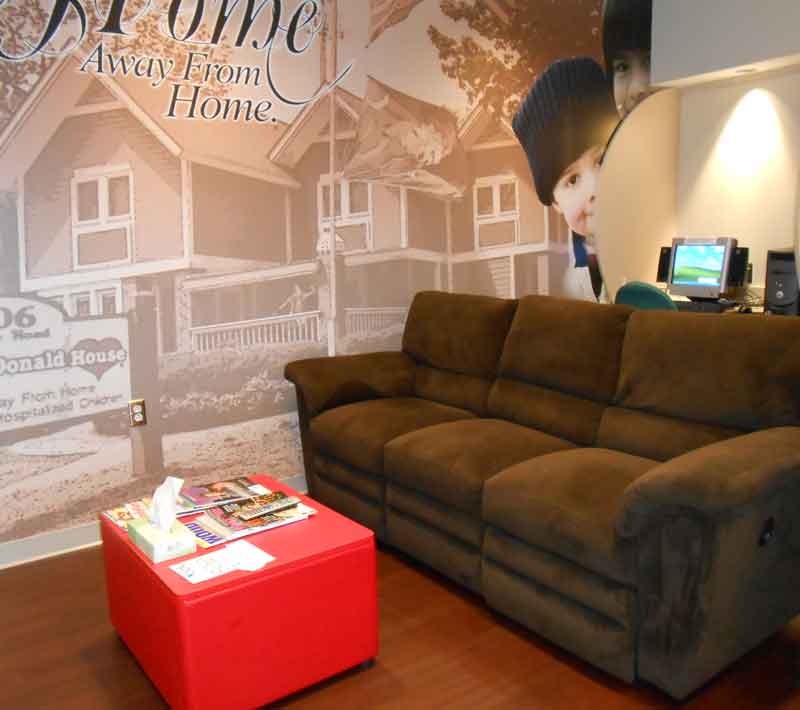 How Do Families Get Admitted to RMHCC?
Families who would like to stay at the Ronald McDonald House® must be referred by social services, your child's physician or nurse. Social Services will then contact the House to check for room availability. We serve families with children being treated at any Upstate healthcare facility. Here some of our medical affiliates:
Greenville Health System,
Greenville Health System Children's Hospital,
Bon Secours St. Francis 

Adolescent & Young Adult (AYA) Cancer Center,

Hampton Psychiatric Residental Treatment Facility,

Regency Hospital-Greenville,

Eating Recovery Center of the Carolinas, 

Shriner's Hospital for Children-Greenville,

Springbrook Behavioral Health Home,

Spartanburg Regional Healthcare System,

Bon Secours St. Francis Downtown,

Bon Secours St. Francis Eastside,

Greenwood Genetic Center-Greenville.