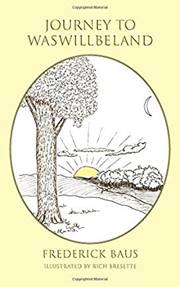 RMHC of the Carolinas has partnered together with local author, Frederick Baus, on an exceptional story of the stages of loss and grief and ultimately coming to joy and happy memories when losing a loved one. This book resonates with our mission and will help guide some of our families through the difficult stages as their child is in the hospital. We are selling copies of this book here at the House for $20. By purchasing a copy today, you are taking care of one family's night stay here at the House.
"Journey to Waswillbeland teaches that, while sadness and grief and despair are experienced in loneliness, the journey back to joy – however difficult – is made with the guidance and help of others. Once lost, the joy and happiness that "was" can become the joy and happiness that "will be" if we accept that the journey takes us through tears and anger and deep sadness to a place where good memories, the passage of time, the embrace of those we love, and our willingness to share our thoughts and feelings all contribute to recovery."
–Frederick Baus, Author
Contact Marti Spencer for mailing information.